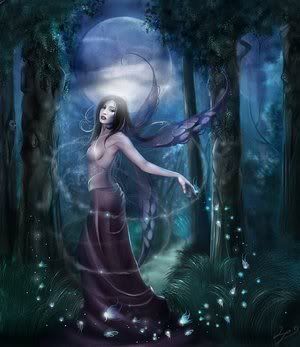 The night is where I am most comfortable. The time and the place where I feel most at home. With darkness a velvet wrapper around my body, the starlight and moonlight are a shining guide to comfort. Whether I am dancing and laughing or just sitting and thinking, that darkness is welcoming and welcomed.

The darkness is not a place to hide. It is a place to discover. The changes in vision that accompany darkness gives one a different outlook. Things are softer and sweeter in the dark. Sometimes darkness makes things even brighter and more vibrant than when the harsher daylight shines upon it. And sometimes more mysterious and malevolent. Either way, it seems more there to me.

Other than, you know, the obvious (lol), what do you enjoy about the darkness? What are some of your favorite memories that involve the night? What do you like to do when you find yourself alone in the night? Do you turn on all of the lights and the TV? Do you go outside and breathe in the sweet air? What? Share with me.....