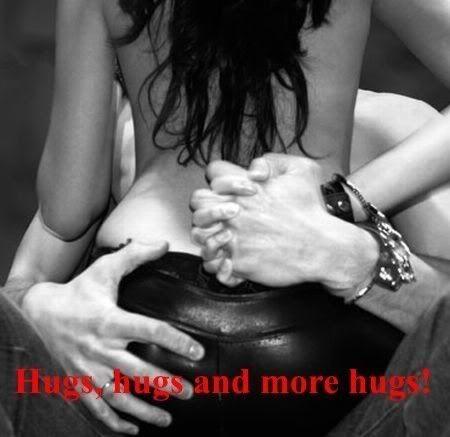 I am in need of hugs. That is what I have decided. I am too stressed out and frazzled and I just need some full body, warm, comfy hugs. And some snuggles.

And then maybe some extremely hot and sweaty mattress mambo..... what better way to destress?

I think I might need to host another question day. And let y'all give me some ideas for posts. My life has just been to incredibly boring for words lately. Well, in between all of the crazy kid stuff. I have not been doing a damn thing other than kid stuff and cleaning. And fighting with doctors on the phone....

I wonder if I can find a babysitter for my birthday? So I can go out? No. So I can sleep. That's how damn pitiful I am lately! Ha! No, actually, I would like to go out. But, then I would need a designated driver since I have not been out and had anything to drink in so long that one drink would probably put me under the table. Or on top of it. Or in the back seat of someones car! LOL

I wish my Chelle could be here to go out with me! She always takes extra good care of me when we go out. Steven could ask us if we are sisters! teehee

Yeah, it's late. I'm tired. I am waiting for Steven to get off of work so I can go pick him up. Then maybe I can get some sleep. Or some mambo madness to help me sleep. Or maybe just a hug and sleep. Or maybe all three.

I am feeling a little punch drunk right now. You must excuse me for rambling on with no point to this post. Perhaps I am just liking "p" words.

Have you ever seen "V for Vendetta"? The V speech? Ha! I want to memorize that. Let's see if I can find it..... Oh, this is a good version.... turn the music off on the side bar.... and enjoy!



While I was looking for that one... I found this. Take the time to watch it all the way to the end.
Have a great night.... a great day on Thursday.... hugs to all of you. Thank you for your words, your comments, your thoughts and your love.