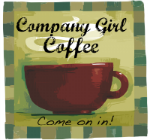 I am joining in this week with
Home Sanctuary's
Company Girl coffee break. If you have never checked out Home Sanctuary than you really should!
This week has been hectic with Jenna trying to do make up work from missing school last week and going in early and leaving late (which means mom gets to drop her off and pick her up rather than her ride the bus!) and with financial difficulties and my stressing out. I really wish I had more going on in my life to blog about other than woe is me lately!
Braeden is starting Headstart on Tuesday. I am a wreck! I have wanted him to got o preschool and he really NEEDS to be there but.... this is my baby! He has not been away from me or stayed with anyone other than me (and dad and sissy) since I quit my job when he was 6 months old. I won't even know what to do with myself with only Malachai at home with me. Granted, Mal is 2.... he will keep me busy! But, I will miss my big boy. I am hoping he handles the transition well and that the teachers at the school are able to handle his speech issues and his behavioral quirks. For some reason, I am expecting to have teacher confrences and meetings and problems with his settling in. I hope I am wrong!
Steven has made some progress with helping more around the house and spending more time with the boys. It makes me happy. I hate being upset with him.... and I hate feeling like the bad guy!
I am very upset that my writing has fallen by the way side lately. I have nto written any articles for pay in months. I just cannot seem to get myself to the point that I can sit down and write, uninterrupted! And I cannot seem to focus on writing around the kids lately. I really need to work on this once B is in school. We could use the money and I am starting to feel stagnant. I need to exercise my brain muscles!
Speaking of muscles, my weight loss goals are not being met, unfortunately. With sickness and stress... I have been neglecting my exercising and eating things I should not. I found a new blog that I love called
Pudget
that is really giving me some encouragement and making me feel liek I can do this. I will be starting to log my exercise and my food and water consumption next week. I think I need to be more accountable to myself. It is too easy to drink soda and snack all day long when I am chasing kids! Wish me luck, I am going to need it. My goal is to get below 200 before Christmas. That's a little over 20 pounds that I need to lose. I think I can do it!
This week has been another one that just.... steals my imagination, sense of humor and positive outlook on life. I need to find these things again. I need to get back my oomph. Has anyone seen it?
Sorry I am so disjointed and scatterbrained today! Maybe next week will be a better week....